Sustainability Reporting
Creation process: the 5 most important factors for success
It is now certain that companies will have to disclose more and more data and information about their sustainability performance. Those companies who do not yet do so should start in order to keep pace with the approaching legislation. In addition, reporting can offer opportunities, e.g., highlighting optimization potential and creating concrete advantages over the competition.
1. Ensure that management supports sustainability reporting.
Sustainability reporting provides regular and structured information on environmental, social and governance performance. For such a comprehensive project, it is crucial to have the full support of the management behind you. The preparation of a sustainability report will affect the entire company and relies on the support of many people in a wide range of departments. This takes time, which is often money in a company. With an official roll-out or a company-wide kick-off workshop by the (executive) management or the board of directors, discussions about resources and additional effort of all involved can be avoided. It is best if a time budget is released directly, provided that employees are kept from their actual work. The first step in sustainability reporting is therefore to convince management with good arguments of the added value of ESG reporting.
Möchte die Geschäftsführung gleich in eine umfassende Berichterstattung einsteigen und einem anerkannten internationalen Standard folgen, ist die Global Reporting Initiative als Berichtsstandard zu empfehlen. Jedoch sollten dann auch ausreichend Ressourcen für das Thema bereitgestellt werden (z.B. Personal, Geld)
Bevorzugt die Geschäftsführung hingegen einen niedrigschwelligen Einstieg in die ESG-Berichterstattung, ist der Deutsche Nachhaltigkeitskodex der passende Berichtsstandard für das Unternehmen.
FREE POWERPOINT: 10 Gründe Die Geschäftsführung von Nachhaltigkeit zu überzeugen
Includes scientific evidence and illustrative examples
2. Deciding which is the correct reporting standard
There are numerous standards for preparing a sustainability report. Which one is right for you and provides the right scope of key figures and data collection involved can depend on many different factors.
For example, from legal requirements in a country and standards in an industry, from the sustainability reporting standards used by other companies in the value chain, or from its corporate goals and philosophy. In the end, it is therefore often the case that companies report according to several standards and disclose corresponding data and information.
There are at least 13 known frameworks and standards for sustainability reporting.
EU Taxonomy for Sustainable Activities 
SDG – Sustainable Development Goals
PRI – Principles for Responsible Investment
CDP – Carbon Disclosure Project
CDSB – Climate Disclosure Standards Board
GHG – Greenhouse Gas Protocol
GRI – Global Reporting Initiative
IIRC – International Integrated Reporting Council
SASB – Sustainability Accounting Standards Board
TCFD – Taskforce on Climate Related Disclosures

DNK – Deutscher Nachhaltigkeitskodex (German Sustainability Code)

GWÖ – Gemeinwohlbilanz (Commonwealth Balance)
UN Global Compact
Die GRI kann bei einer ersten Berichterstattung durchaus komplex sein, da die Tiefe und Breite an Themen und damit auch die Datenmenge die zu erfassen ist, anspruchsvoll sein kann. Wer aber international im Geschäft ist, sollte die GRI zum Berichtsrahmen machen. 
Der DNK ist in seiner Struktur deutlich einfacher aufgebaut (20 Kriterien), ist thematisch weniger breit und umfasst weniger Datenpunkte als andere Standards. Liegt zudem kein internationales Geschäft vor und wird erstmalig berichtet, bietet der DNK alles, was es braucht. Ein Umstieg auf die GRI ist jederzeit möglich, da der DNK auf Leistungsindikatoren der GRI zurückgreift.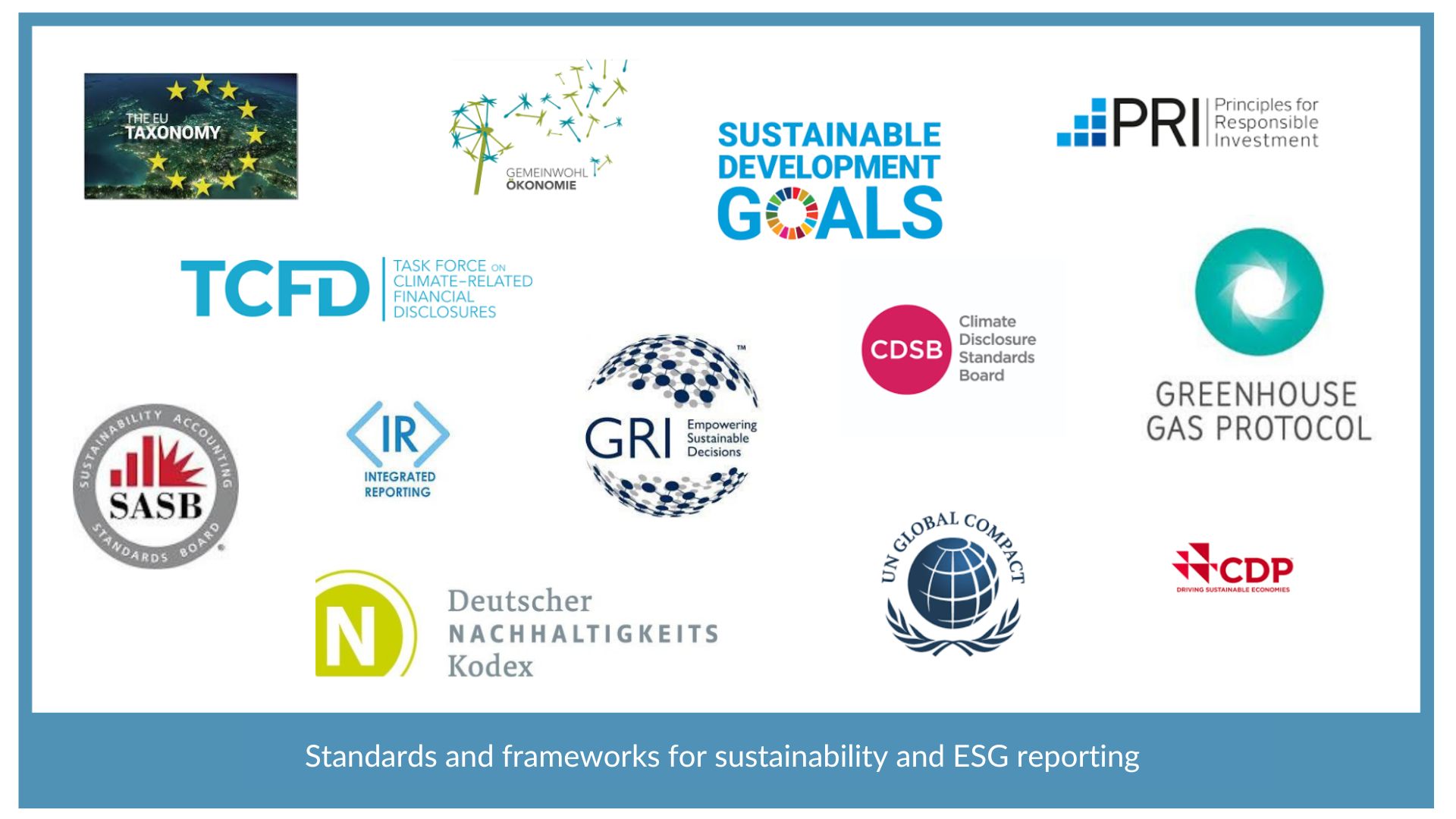 Example VAUDE
The outdoor manufacturer VAUDE has made sustainability a core part of its business and collects a variety of data and metrics. According to VAUDE's website, the company uses various standards and frameworks for sustainability management and reporting. For example, it applies the Greenhouse Gas Protocol (GHG) to record emissions and define reduction paths. At the same time, it applies a framework from the Fair Wear Foundation (a non-profit organization that promotes fair working conditions in the apparel industry) to monitor data related to social sustainability. VAUDE's annual sustainability report also draws on the Global Reporting Initiative (GRI), the Fair Wear Foundation's annual Brand Performance Check, and the United Nations Sustainable Development Goals (SDGs). In addition, a common good balance sheet is prepared and reported in accordance with the German Sustainability Code.
Some standards address all ESG topic areas, others focus on a few topics (e.g. exclusive focus on greenhouse gas emissions). With regard to the target groups of the standards, they can be roughly divided into those that address a narrow circle of stakeholders (primarily investors) and those that address a large variety of groups, including customers, employees or analysts.
If a company wants to report on the specific risks that climate change poses to its financial results, it should report either according to CDSB (a specific standard) or TCFD (a comprehensive framework). Companies that want to report on a broad range of topics, such as the company's contribution to the UN Sustainable Development Goals, can use the SDGs themselves, for example, but also use GRI, SASB, or IIRC. GRI is the most widely used sustainability reporting standard in the world.
In order to make an informed decision regarding the standard, it is usually necessary to conduct a materiality analysis that identifies the right topics and indicators.
3. Establish processes to assess the quality of sustainability data.
It goes without saying that sustainability data should be accurate. But there are many problems that lead to incorrect data. This is precisely why companies need to set up processes and safeguards from the beginning to be able to check supplied data and information for reliability and validity. Using a system or software to check and control can help catch errors before they turn into a problem.
Calculation methods and data sources should therefore be documented for each indicator, and evidence and supporting documents should be readily available. We paid close attention to this in the development of our tool. Because even if some data comes in the form of numbers, which are, after all, universal (a kilowatt of electricity is always the same, regardless of where and how it is consumed), the classification and significance of the kilowatt-hour for CO2 emissions depends on additional data, e.g. whether the kilowatt of electricity comes from a solar park or a coal-fired power plant.
Da die Datenvielfalt bei der GRI hoch ist und damit meist auch die Menge an Menschen, die in dem Prozess involviert sind, steigt die Fehleranfälligkeit in der Regel. Daher sollte bei der Berichterstattung nach der GRI von Anfang an neben dem Vier-Augen-Prinzip auch eine automatisierte Datenprüfung erfolgen sowie eine Dokumentation der Veränderungsverläufe der Daten. Tools wie WeShyft unterstützen diese Form der Datenprüfung.
Zwar ist die Datenmenge und -vielfalt beim DNK geringer als bei der GRI, doch auch hier empfehlen wir das Vier-Augen-Prinzip und eine Dokumentation des Änderungsverlaufs bei der Datenerfassung. So ist immer einsehrbar, ob ein Wert nach Ersteingabe nochmal verändert wurde. Solche Veränderungen mit einem Kommentar zu versehen, kann den Prozess für alle nachvollziehbarer machen und möglichen hin-und-her Fragen verhindern.
4. Make sure to integrate stakeholders into the reporting process.
The concept of stakeholders and stakeholder management has been part of corporate management for a long time. For good reason: the exclusive focus on shareholders is out of date, because companies are social actors that influence and are influenced by many actors. Identifying and engaging with these groups can be critical to a company's success. In addition, there is strong evidence that stakeholder engagement can also be critical to sustainability reporting.
Stakeholders want the topics and information that are relevant to them to find a place in the report. This also reduces the risk of focusing sustainability activities on the least relevant levels or missing out on opportunities for targeted strategic engagement.
Companies should focus specifically on the most influential and important stakeholders and also report transparently on the challenges they face in engaging them. Some companies are even given the opportunity to comment on and criticize a company's sustainability efforts, which can contribute to a balanced report.
5. Ensuring that the right people are on board
A sustainability report is a joint effort. No matter how good the processes are, if the key people in the company do not play their part, the preparation of the report can quickly degenerate into a time-consuming and exhausting project.
On the contrary, a company can benefit greatly if the right people provide support. Finance departments, for example, can play a key role in preparing sustainability reporting. The chief finance officer or financial controlling can contribute their experience and knowledge to design processes and controls for "non-financial" reporting. They can help establish effective governance and decision-making processes for sustainability reporting and provide greater legitimacy for non-financial processes. In addition, establishing a clear (positive) link between financial and non-financial information can be of great help for further sustainability activities..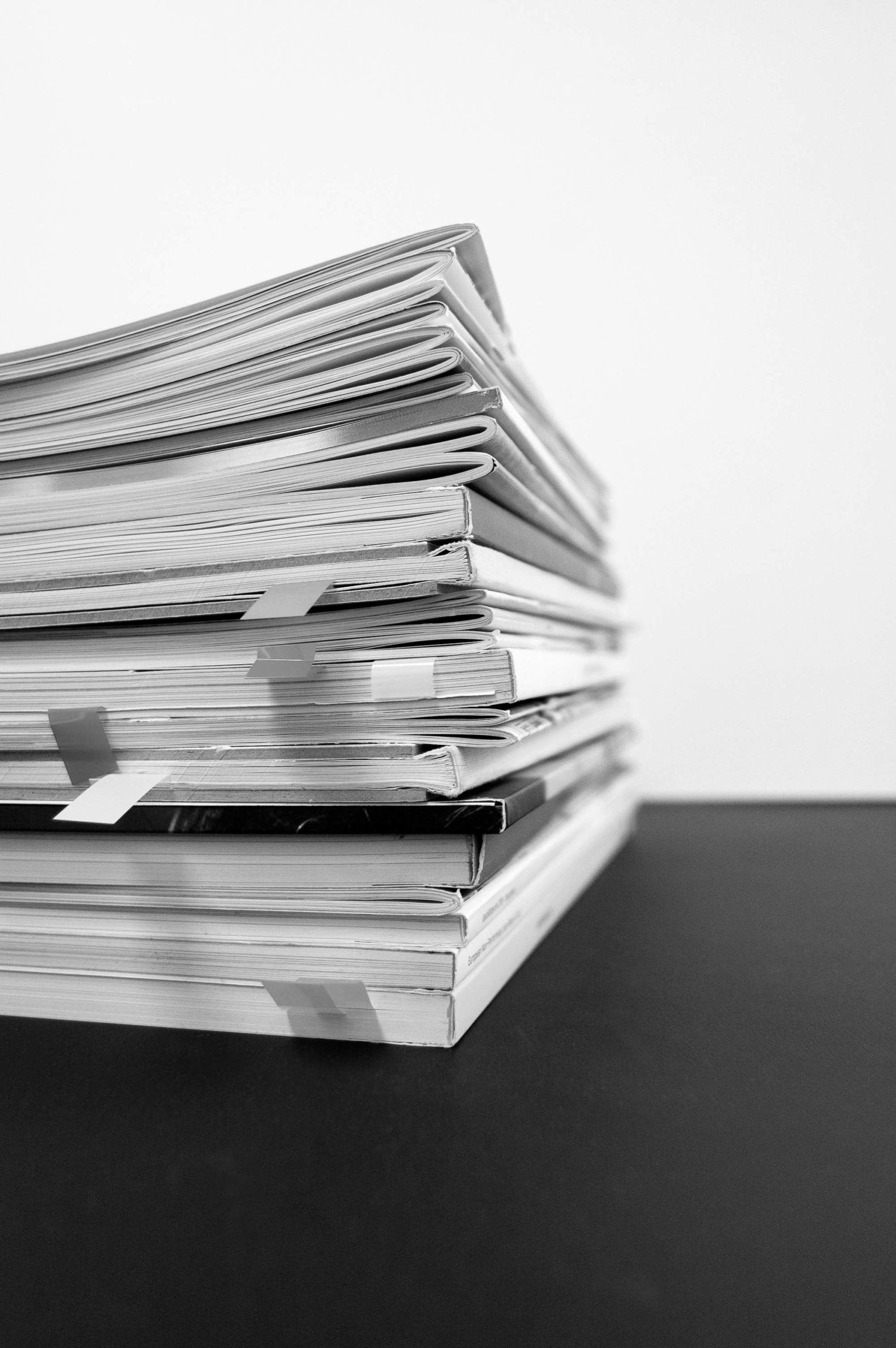 reporting
As a result of the Corporate Sustainability Reporting Directive (CSRD), which obliges almost 50,000 companies in the EU to report on sustainability, many companies must
Learn more ➟
EU taxonomy.
The second episode of the podcast "Sustainability Made in Europe: A Policy Podcast on Finance, Reporting & Governance" with Dr. Colin Bien revolves around a number of issues surrounding the CSDDD
Learn more ➟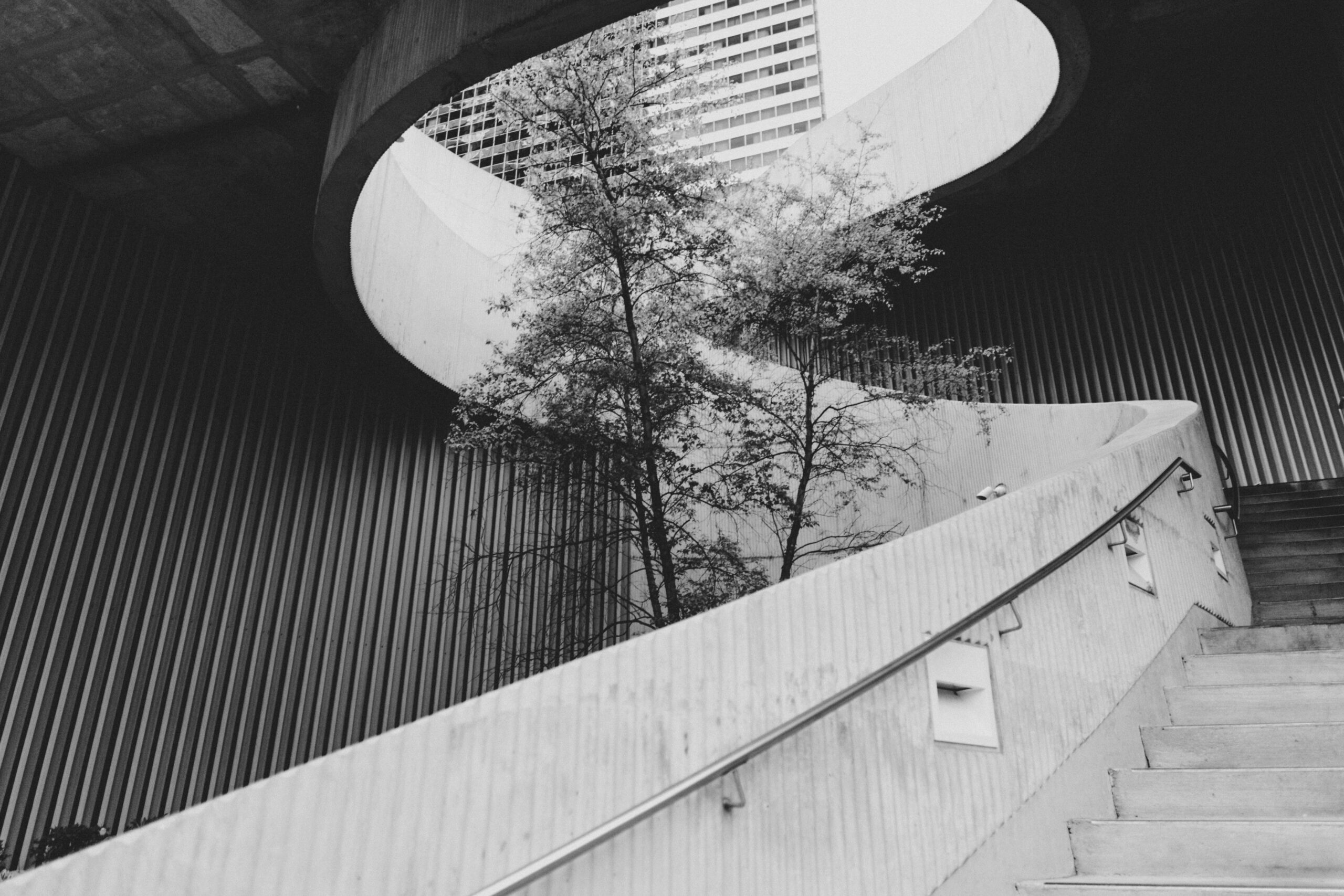 reporting
The second episode of the podcast "Sustainability Made in Europe: A Policy Podcast on Finance, Reporting & Governance" with Dr. Colin Bien revolves around a number of issues surrounding the CSDDD
Learn more ➟